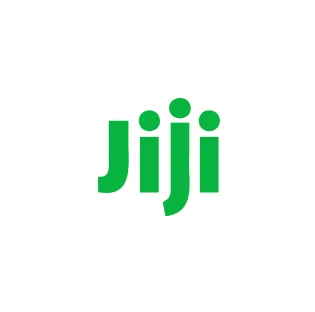 About the client
Jiji.ng is the biggest online marketplace in Nigeria. Since 2014 it has connected real buyers and sellers to exchange goods and services.
Jiji.ng contains over 2,000,000 ads, attracting up to 200,000 sellers and 7,000,000 unique monthly users. People can buy cars, household goods, mobile phones, order services, and even find new jobs using this platform. Jiji has enormous market potential, but it requires effective technological solutions to meet users' needs.
Despite rigorous Jiji internal processes, the massive turnover of ads and products creates tens of thousands of inquiries in social media every day (via comments and direct messages). Being constantly under pressure, Jiji support team already automated some processes, relying on rigid third-party software, creating a sophisticated algorithm of possible flows and relevant typical replies.
With the increase in traffic and inbound inquiries, it was hard for the team to keep up to date with all the changes and cope with the growing flow, keeping in check with the customer support budgets allocated.
Under these circumstances, it looked like a choice between dropping time-to-resolve metrics or an inevitable increase in support agents and costs. On top of that, the Nigerian market is very different in terms of language usage, abbreviations, etc, adding another layer of complexity.
Valeriia Kupreichuk
Brand Manager at Jiji
"Before meeting the Metadialog team, we tried numerous other platforms to cover our needs, especially in managing Facebook comments and direct messages. However, there were no reliable options to cover it properly, so we had to buy two different solutions and manage them separately. We got some limited automation on both platforms, but the tools weren't flexible enough, despite having a nice interface, analytics, and all that. We couldn't get the level of automation required to cope with the flood of inquiries, and the only way was to increase the number of support agents. That's where we met with the Metadialog team."
Eli Braginsky
Metadialog CEO
"Jiji team implemented a traditional intent-based approach to customer support automation with a very precise flow to follow due to internal policies. We had to match them, enabling the team to have the flexible solution they needed".
Metadialog key advantage is the ability to merge its big foundational Natural Language Processing (NLP) model and customer proprietary data, such as internal manuals, predefined reply templates, previous customer tickets, SQL databases, and so on.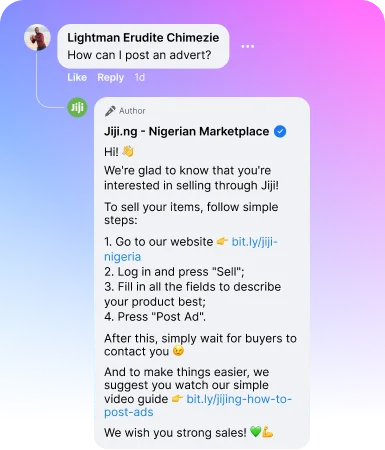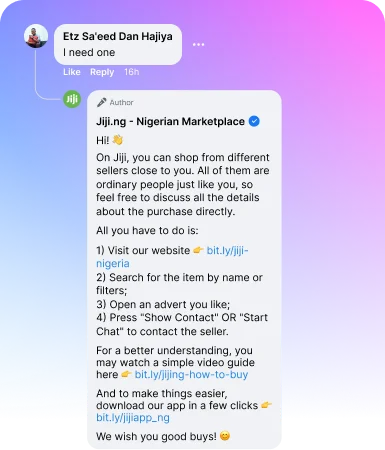 On top of that, the powerful retriever model matches customer intent precisely with internal knowledge in real-time. MetaDialog's flexible architecture enables customers to make reality even the most complex customer support automation requirements, including the mix of canned replies and a real-time dialog indistinguishable from a human conversation.
Five-step integration process
1

Receiving and feeding into Metadialog Jiji internal data (templates, FAQs, manuals, etc)

2

Training the system to answer user questions using correct templates.

3

Testing the AI chatbot internally with the Jiji team

4

Live testing with 10% of real customer requests, including different scenarios and how it escalates to human support when:

the confidence score is insufficient to provide an answer
the topic is listed as a mandatory escalation (refunds etc.)

5

Improving the bot and rolling out 100% of inquiries when all the key metrics show good results.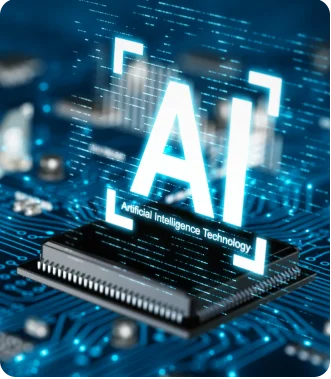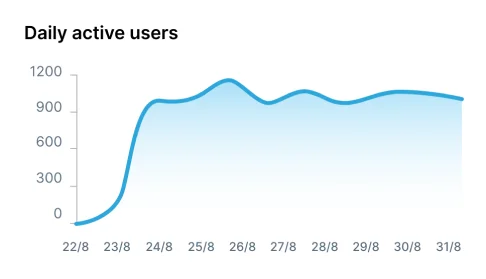 "Since Jiji has already worked with automation platforms and chatbots, it was much easier for us to understand exactly what needed to be done. Analyzing Jiji data and the workflow provided, we were able to roll out the beta version of our AI chatbot quickly. Jiji team was always there to help with additional details whenever needed, extremely responsive and proactive, which was a backbone of successful implementation and great results"
Andrew Tsyvina
Metadialog CTO

Check Out Our Pricing Packages
x5 more questions answered automatically
81% instant automatic and correct answers (other questions are escalated due to low confidence score)
the system keeps self-improving, and the team aims to reach a 90%+ automatic answers rate.
Valeriia Kupreichuk
Brand Manager at Jiji
"Implementing the AI engine improved the customer interaction process and reduced the waiting time for a response. Also, we were able to increase the support service's efficiency without hiring new employees. The Metadialog team improved the performance of our business effortlessly and quickly. We are grateful to the developers for adjusting and adapting the product to our business needs."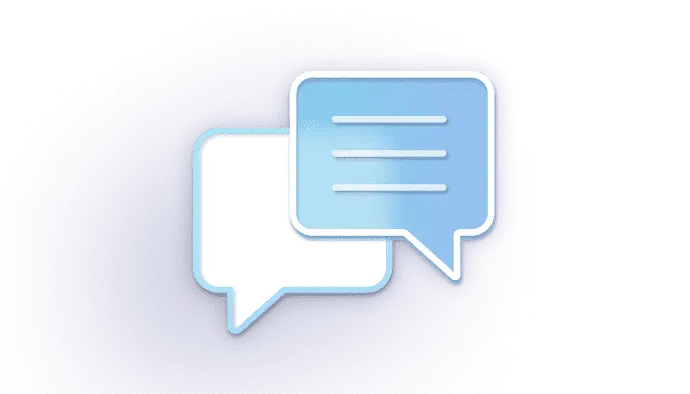 Get knowledge based conversation
Try for free
Save time on support today!