Are you planning to create a chatbot for your company or want to learn more about them? Then you are in the right place. This blog will tell you everything you want to know about chatbot use cases.
A chatbot is a computer program that mimics a human conversation or «chatter» through text or voice interactions.
Users in both business-to-consumer (B2C) and business-to-business (B2B) environments are increasingly using chatbot virtual assistants to perform simple tasks. Adding helper chatbots reduces overhead, makes better use of help desk staff time and allows companies to serve customers during hours when live staff members are unavailable.
The most common types of bots
Such a section contains the most common types of bots. Many of them also let humans take control after the conversation reaches a particular stage. A combination of several types of bots is also allowed.
The rule-based bots chatbot asks questions and provides users with a predefined set of options. The user then selects the appropriate option. The bot analyzes this and answers. Such bots have a longer user path and are the slowest to lead clients to their goals. They may also only respond to specific instructions.
AI or NLP-powered chatbots use machine learning (ML), AI, and natural language processing (NLP) to understand user instructions. NLP helps the bot understand text/voice responses and user intent. They then use the parsing methods of the language to respond. AI chatbots have a predefined flow to solve the user's problem. Conversational AI has attracted a lot of interest in recent years. They can carry on intelligent conversations quickly and effectively.
Service/action chatbots require users to provide relevant information to initiate an action. These chatbots are commonly used by industries that rely on the prepaid booking/ticketing feature to sell their services.
As the name suggests, social media messaging chatbots can be found on messaging apps like Facebook, WhatsApp, Telegram, etc. These bots are carefully programmed and «trained» to encourage almost human interaction with users.
Context Enabled Chatbots, like Alexa or Siri, use machine learning (ML) and artificial intelligence (AI) to remember and learn from conversations. This learning ability allows these chatbots to respond well to questions based on a particular context.
Each developer chooses a more suitable chatbot for their business specifics.
Chatbot advantages
There are numerous benefits that chatbots bring. It all depends on how stakeholders use them to improve the customer experience. Below is a list of some advantages of using chatbots:
Can have multiple conversations simultaneously. Chatbots communicate with hundreds of customers simultaneously; this improves business productivity and reduces waiting times.
Lead generation and qualification. A chatbot can be designed to collect important user information such as email, phone, etc., and send that information to sales reps so that they may continue the conversation.
Tracks and analyzes consumer data. Chatbots collect feedback on every interaction to help companies improve their services and products or optimize their websites. Bots may also record user data to control purchase behaviors and patterns. Such information gives organizations insight into how best to market their products and services and common barriers customers face in the buying process.
Improves interaction with clients. Most firms already engage their customers through social media. Chatbots make the interaction more interactive. Buyers rarely talk to people within the business, so chatbots open up a communication channel through which customers may interact without the stress of communication with another person.
Chatbots don't get tired, don't need breaks, and don't make mistakes. They also don't complain about doing repetitive tasks.
Limitation of chatbot
Chatbots are directly related to business, so understanding their weaknesses is essential. There are many restrictions that users and business owners complained about; let's discuss them in more detail:
Chatbots don't understand the human context. They are programmed only to know what they are taught. Intelligence assistants cannot understand the human context, and this is a considerable gap that may even lead to dissatisfied buyers.
Customer retention is a critical element of any organization. It matters more than attracting new customers. A chatbot is significantly less able to retain customers, as it only tries to reach the level it is programmed to.
Another disadvantage of chatbots is the lack of decision-making. They don't have the right know-how to tell the good from the bad.
Chatbots will save you a lot of money in the long run, but the cost of installing them is high. You need to hire professionals who have properly programmed chatbots to fit your business principles.
Other shortcomings of intelligent assistants include the lack of exploratory abilities and emotions.
Chatbot use cases in customer services
Let's talk about how chatbots have changed various business functions in customer service.
Answering questions
Suggest that you represent a company that is hosting a conference. Before the event, you will work on its marketing to attract as many people as possible. The customer support team will then need to answer any questions from the audience.
A chatbot helps a lot with its ability to respond instantly and be available 24/7. They may answer common questions about the conference: what is the ticket price, how to get to the location, who will be among the speakers, etc.
Stock check and product search
Sometimes the customer can't find what they need, and that's the only thing stopping them from buying a particular product. It can be easily fixed by checking the inventory for a specific item.
While a support agent would need to check the inventory manually, a chatbot can provide a quick response by looking at the site's database. Chatbots ask customers and, depending on the answers, can give them personalized recommendations. Such a procedure frees up time for customer service representatives who may deal with more serious business issues.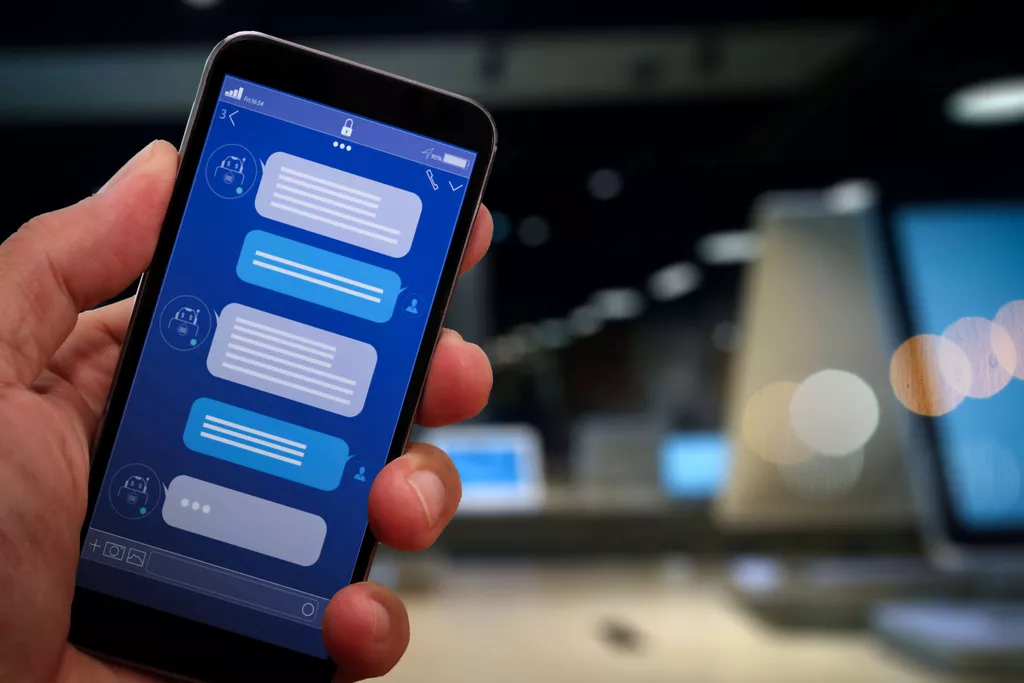 Delivery tracking
After customers confirm their order, they want to know when the item will arrive at the specified address.
It can be a complicated process as customers need to look up the package number of the product in their email inbox, go to the shipping website and enter the package number. Therefore, many customers call a customer service representative to give them an update on the delivery status of their product.
A chatbot is a perfect solution to the problem. Customers may receive product delivery status updates via a bot.
Features of the use of chatbots in marketing
Although marketing is not static and constantly changing, its aim is the same — a convenient and instant service. Now we will look at chatbot use cases in marketing.
Generating leads
Previously, many businesses tried to connect with cold prospects and get them interested in the company's products and services. Companies are now using a different hands-on approach called «warm leads,» which focuses on people who are already interested in their products.
The live sales team will not be able to contact warm leads as the traffic is anonymous. Adding a bot to your website asks potential customers sales-oriented questions and guides them through the buying process.
Simplification of pricing
Customers can be confused by the options available when they go to a particular business's pricing page. If they feel overwhelmed, they may not buy the item they planned. Companies use a chatbot to avoid such problems. A virtual assistant that helps customers get their desired product or service can increase sales significantly.
Promotion of product
Different audience types require different marketing strategies. For example, one kind of audience might be interested in quizzes. Another audience group might be interested in having a serious conversation about your products.
You can use funny content like emojis, images, GIFs, and memes with chatbots. Bots also allow people to participate in conversations. They quickly adapt to the conversation based on your customers' responses.
Examples of using chatbots in healthcare
Chatbots have the potential to transform the healthcare sector as a whole, as they help solve many problems.
Making an appointment with a doctor
Chatbots are integrated into the system of a medical institution to retrieve information about suitable doctors, available places, and working days of clinics and pharmacies. Chatbots ask patients about their current health concerns, find appropriate doctors, provide available time slots, and schedule, reschedule, and delete appointments for patients.
Working with insurance claims
Healthcare chatbots provide your patients with an easy way to find the information they need about insurance services.
A chatbot system integrated with Robotic Process Automation (RPA) or other automated solutions helps automate insurance claims processing and medical billing.
Chatbot usage for human resources
Hiring has always been a time-consuming job, but the total time spent on the entire process has been greatly reduced. HR chatbots are bots specially trained and designed to replicate the role of HR employees in a company. Let's discuss several use cases for HR chatbots.
HR chatbots for hiring
Recruiters are often overwhelmed with candidate applications. Candidate filtering, sorting, and shortlisting can be very time-consuming. At the same time, they also have to make calls, send emails, and schedule interviews, which leads to employee burnout. Thanks to a chatbot, you may easily automate these tasks.
Employee support
Job applicants and employees want answers very quickly. But HR cannot answer all questions in a short period. Then chatbots enter the scene. A potential job seeker needs instant answers to questions about the company and where it is in the process, and HR chatbots quickly provide solutions with a Q&A feature.
How we utilize chatbots in banking
A chatbot can help reduce bank costs and benefit its employees while supporting its digitalization efforts. Another added benefit is the reduction in queues at banks. Let's look at a few examples of chatbots in the banking sector.
Answers to the most popular questions
Chatbots answer some basic customer questions and thus make things easier for employees. These questions include, «What is my credit card balance?» or «When is my next loan payment?».
Providing information about banking products
Chatbots offer different information to people; this includes information about available types of bank loans, their online services, bonus options, etc.
Fraud detection
It's frustrating if you're the victim of a scam or hacker attack and have to wait half an hour to report it to an agent at the bank. The chatbot may instantly log these messages and even take action in some cases (for example, block a credit card).
Using chatbots for personal services
Fitness apps may be helpful for people who don't mind additional interaction with the app itself. But not all apps have the space to stay up to date with apps and constantly enter personal information about fitness, diets, or develop workout plans.
Chatbots can be used to optimize your personal services such as fitness, diet, health, or daily activities. Each fitness goal requires different workout plans and diets.
Use cases for a chatbot in other industries
AI bots have different abilities across different chatbot platforms and perform various tasks in every industry. Let's have a look:
The introduction of an AI conversational chatbot for telecommunications is an excellent example of delivering a superior customer experience by improving client support, resolving technical issues, providing personalized advice, better fraud detection, increasing sales, etc.
Real estate, by its very nature, is a relationship-oriented industry. Chatbots cannot replace this client-agent relationship, but they may replace agents in answering popular real estate questions. Holmes is a real estate chatbot that uses artificial intelligence to respond to customer inquiries in real-time.
More and more international clients in the travel and tourism industry want to do business. One of the problems of the tourism business is round-the-clock support. The chatbot allows the processing of customer requests and generates leads around the clock.
Today, we may also find chatbot use cases in the entertainment industry, airlines, law firms, etc.
How do chatbots improve your business?
With the advent of modern technologies such as artificial intelligence and wearable technology, chatbots provide additional opportunities to interact with your customers:
Improve workflows and effectiveness. Agents who answer repetitive questions all day quickly lose motivation. The chatbot allows you to automate these tedious processes. Let your team focus on interesting cases.
24/7 customer support. An intelligent chatbot is ready to help customers at any time when you cannot answer a call or receive a chat. Provide ongoing support and make sure every customer gets the help they need.
Solve problems more intelligently and faster. Chatbots reduce waiting time by instantly answering user questions. They collect data about customers and their needs, helping your team reduce problem resolution time.
Development without increasing overhead. Growing your business doesn't necessarily mean increased costs. The chatbot allows you to scale customer service without increasing staff.
Good customer relationships are the foundation of a successful business. With a chatbot, you will create strong connections by attracting users to your site. Support visitors browsing your offers and help them find and choose the right products.
Use the one-click integration to add chatbots to your website, messaging platform, or Facebook. Communicate with customers across channels and let them solve problems conveniently.
Conclusion
While certain communications require a human touch, there are repetitive processes in every industry that chatbots handle. Chatbots enable efficiency gains and cost savings to help any business or institution.
Chatbots will grow even more in the future if they find a way to solve more complex problems without human assistance. They may one day be as effective as human support using sentiment analysis and predictive analysis.