Being in the hospitality industry, you try to do everything possible to make travel and stay comfortable for your guests. Despite all these efforts, it may be difficult for people to contact you when they need to resolve their issues and agree on every tiny piece of information they need while traveling.
According to recent research, 77% of consumers are more likely to recommend your business to their friends after having a positive customer experience.
The same applies to your hospitality business, as word of mouth is essential in your industry regarding brand strength, the number of guests, and quality of service.
Some words about conversational AI
A conversational AI hospitality is a computer program that works automatically and communicates through various digital media, including organization apps, websites, social media platforms, and messaging platforms. Users interact with such bots using voice or text to access information, complete tasks, or complete transactions.
Intelligent virtual agents, such as Google Assistant, Apple's Siri, and Amazon's Alexa, are conversational bots in their own right. Such technology based on which third parties may create «skills» or unique conversational interactions using artificial intelligence (AI), natural language processing (NLP), and machine learning (ML) APIs/services offered by these platform providers.
Main benefits of utilizing AI in the hospitality business
Artificial intelligence in the hospitality industry gives companies a unique opportunity to become more customer-centric and automate various operations such as hotel reservations, request support, payments, guest qualifications, and more. Let's take a closer look at how conversational AI in the hospitality business is bringing much-needed improvements:
Get the most out of guest interaction: AI-enabled automation significantly impacts the guest experience: you may instantly answer all questions or let a live support agent guide the conversation when needed. Every hotel chatbot can now answer urgent questions and connect with potential customers 24/7.
Save time, cost, and effort: tired of all those routine questions you get every day? AI chatbots may simultaneously solve all these problems in hotels. There is no need for multiple representatives to answer the same questions 24 hours a day, seven days a week. Conversational artificial intelligence allows you to reduce the time, cost, and effort for high-quality interaction with guests on the Internet.
Growing guest engagement: conversational AI hospitality delivers high-quality results when powered by AI and integrated into your online guest interactions. An AI hotel bot goes beyond time limits to respond to queries, initiate conversations, make transactions, and offer travel assistance to your guests. Omnichannel Conversational AI can be used to unify the guest experience across your website, WhatsApp and Facebook, Instagram, Google, and other communication channels.
AI in hotel reservations accelerates the growth of your business. It's due to the high quality of online support, easy data exchange, automatic orders and payments, and increased brand influence.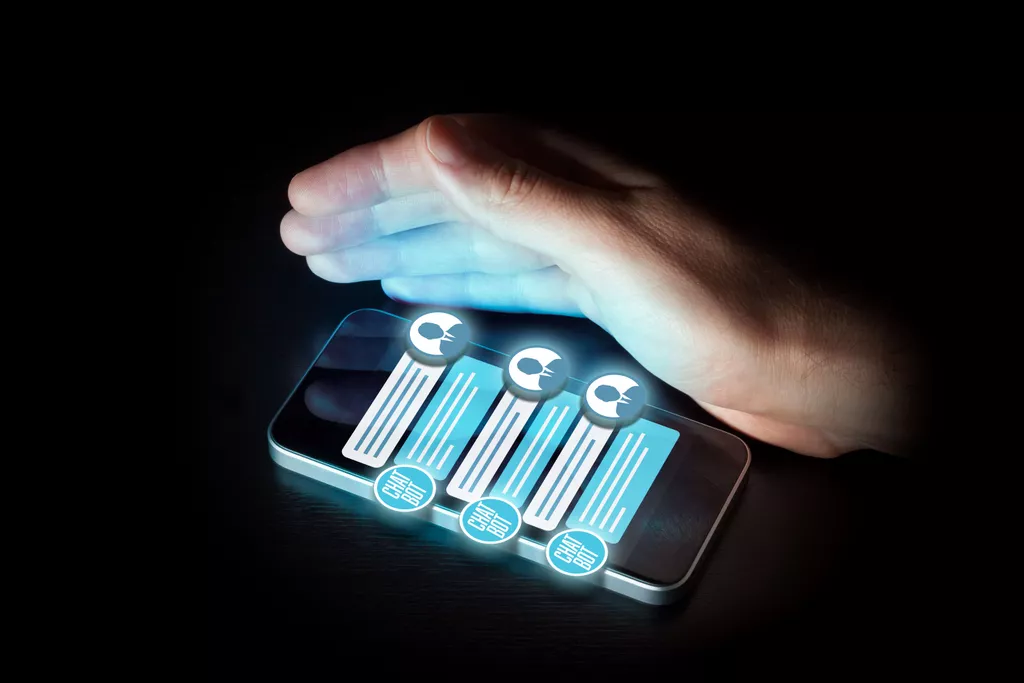 Most common examples of using AI chatbots in hotels
Guests expect most of their interactions with the hotel, from booking to the end of their stay, to be automated, with smartphone services available on demand. Whether it questions their accommodation or ordering food, they want answers instantly. It's where conversational AI makes a big difference in response time while taking on the burden of the hotel staff.
Automated guest service requests
Nothing can hurt a hotel's reputation more than poorly managed guest requests. We all know how loud and long guests may talk about their disappointments, and they don't hesitate to share them with the world on the blog or reputable sites like TripAdvisor.
AI chatbots are the easiest way for guests to request hotel service – if they need clean towels, wake-up call, dry cleaning, room service, drinks by the pool, etc. Everything they need to do is to press a few buttons. It is much more convenient than calling or running to the reception.
Immediate customer support in emergencies
Force majeure may happen anywhere, anytime! It may be the loss of luggage or travel documents, health problems, etc. When your client needs help overseas, you as a brand would like to provide immediate assistance by meeting their needs or connecting them to people who can. The best way to achieve this is to use a conversational AI chatbot on call 24/7.
Booking Management
Flights, hotels or experiences, and booking services have never been more accessible. End-to-end booking, along with payment collection, billing, keeping the consumer informed of progress, and change management, can be done using the messaging app. It eliminates the need for expensive booking management portals on websites.
Virtual guides
Let's consider a museum or historic site your client wants to visit; as an additional service, providing a comprehensive information guide is a brilliant step towards customer satisfaction.
Virtual tours are nothing new, but they have never been more common as a marketing strategy. They can be strategic, significant, and vital to almost any organization.
Such virtual tours may contain materials, including films, music, images, and recordings, to provide additional information related to area tours. Users are interested not only in appearance but also in the history of each place.
Reduce the burden on employees
Consider the example of a hotel: once a visitor checks in, the front desk staff must be constantly connected and alert. However, when occupancy is at its peak, there are delays and service delivery issues. To avoid this, a simple chatbot that immediately books services for customers according to their needs can be integrated with your booking system or CRM.
Reporting and analytics
All requests can be tracked by many categories, including the nature, the number of requests, average response time, work time saved, escalated demands, and results. These reports and analyzes help identify strengths and weaknesses within a team and highlight redundant requests such as heating, air conditioning, and crate supplies. The team can be encouraged to improve or develop these analytics. In hotels today, most guest reviews are not recorded or analyzed.
Modern hotels cannot provide their guests with a high level of service without technologies related to artificial intelligence.
Experts expect that these technologies will further influence how hotels operate in the future, affecting everything from the front desk to customer service and support. While introducing tools such as conversational AI hospitality may lead to some disruption, it will also open up many opportunities for hotels to increase brand awareness, customer loyalty, and revenue in the long term.