More and more organizations are realizing the importance of quality over quantity when it comes to customers. Loyal clients are less likely to leave you for a competitor and more likely to recommend you. As a result, your company grows at a lower cosе.
All this sounds nice, but it is not easy to earn loyal customers. Research shows that one of the ways you may keep your customers coming back to you is by providing superior customer support.
However, this won't be easy to achieve if your support idea is to answer emails and keep a record of your communication with clients.
We've compiled this list of the top customer support software. Below we will also discuss the importance of superior customer service solutions.
What are customer service solutions?
A customer service solution is any software tool that helps a business manage, track or optimize customer service performance. It can mean anything from a simple chatbot to a complex customer relationship management solution integrated with sales and IT.
Small businesses and multinational corporations use different software tools. But they have something in common. An essential function of all customer service software tools is to improve the quality of service for both clients and customer service agents (or for a small business owner if you work alone.)
The importance of customer service solutions in business
Customer service is vital to your business because it keeps customers and gets more value out of them. By providing top-notch customer service, enterprises recoup clients' acquisition costs and develop loyal followers who refer customers, serve as case studies, and offer testimonials and reviews. Other benefits of a quality customer service solution:
Helps retain customers: If a client has a good experience with a company, they are more likely to return, and the more loyal buyers you have, the more your company will be able to reach its full potential.
Increases employee retention: everyone wants to work for companies that treat their customers fairly. When your employees see your company is focused on delivering exceptional customer service, they are more likely to become business advocates.
Reinforces company values and brand: your customer service team interacts with customers daily, meaning they are directly responsible for representing your brand's mission and values. Excellent customer service may lead to positive reviews and word-of-mouth recommendations for your business.
Increases customer lifetime value: customer lifetime value (CLV) is the total amount of revenue your company may generate from a single customer over time. Increasing CLV can significantly grow your company's revenue without spending more on marketing.
Proactively solves customer problems: proactive customer service is when you reach out to clients before they know there are problems. By actively applying your approach to customer service, you can let them know you are working to improve their user experience.
A great customer service solution does more than attract new clients and retain loyal ones. It also sets you apart from your competitors. Offering best-in-class customer service adds value to your company brand and strengthens your reputation in the marketplace.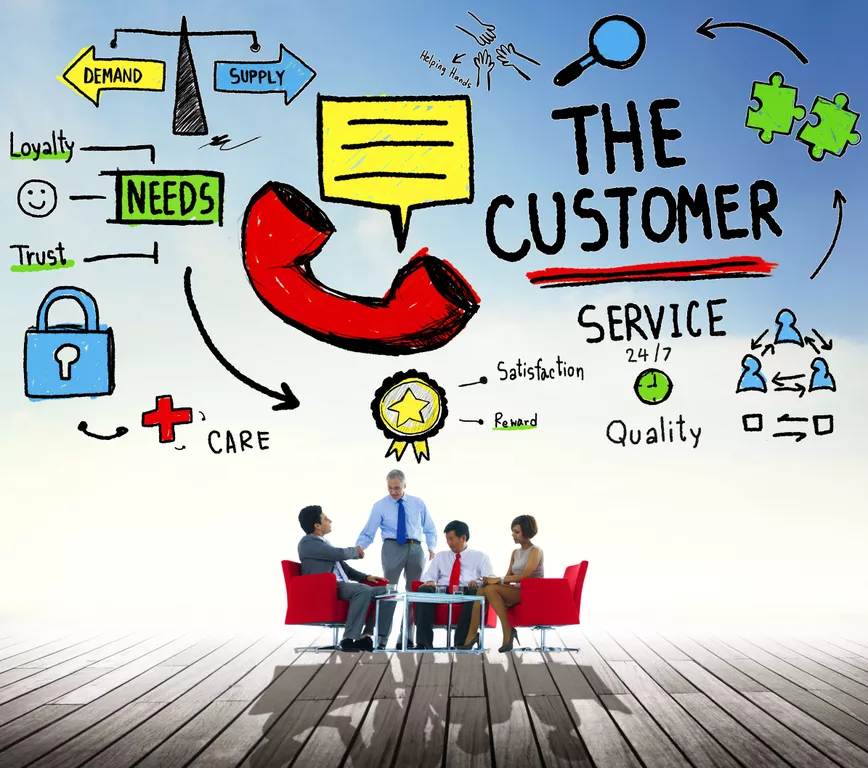 The main stages of customer service solutions
You must regularly improve your skills if you work in a customer-facing service role and want to excel in your job. You can take several basic steps to provide excellent customer service.
Store and reference customer data: it's crucial in any environment, especially in a multichannel client environment. It annoys clients when they have to repeat information to different agents on different platforms. Such a process can be tricky in a multichannel or multichannel environment. However, optimizing these channels should be a top priority for any business. To achieve this effect, agents must provide easy data access.
Understand what the client wants: don't forget that all clients are different. Finding what each of them wants is best done by communicating effectively with them. It is essential to understand the customer journey. You then must determine where each customer is on the journey and respond accordingly. Keep in mind the needs of your customers may change over time. The service experience should evolve as your customer needs change.
Ensure employees are product savvy: сustomer service will suffer if agents do not have sufficient product knowledge. Provide support representatives with the knowledge they need to respond to customer inquiries. Such a solution will increase their confidence in solving problems, no matter how difficult they may be. More confident agents result in faster problem resolution times and help improve customer satisfaction.
Respond quickly: another factor in good customer service is the timeliness of your responses. Clients appreciate a quick response to their inquiries, especially if the issue is urgent. To ensure good customer service, try to answer all phone calls and emails within 24 hours. Inform your clients how long it will take you to help them.
Offer feedback: asking customers to leave a review will show them you care about their opinion and want to be of service. You will feel that they are appreciated by allowing them to leave a review. You can use contact forms, customer surveys, questionnaires, or first-hand reviews when customers complete their orders to find out what they need and think about your business, products, or services.
Listening is one of the easiest ways to provide excellent customer service. Sometimes clients need to be heard, so be sure to listen actively to what they have to say. They may have a strong point of view that you can use to improve your product or service. By listening carefully, you can understand what your client needs from you.
Types of customer service software
Now when you understand why using customer service tools is crucial, let's look at some customer service software options. Each platform has its features, functionality, and scope.
Customer Relationship Management (CRM) Software
Customer service is all about relationships. A customer relationship management (CRM) tool allows you to track your company's interactions with clients, so you may learn about them as your relationship develops.
In addition to basic contact details, the CRM tool will track purchase history, product preferences, and all customer contact with your team members in any department.
Messaging and live chat software
Communicating with an agent in real-time is one of consumers' most valuable customer service offerings.
Half of SMBs reported an increase in the use of online messaging platforms to build customer relationships in 2021. Most of these businesses stated this is the preferred communication channel for clients.
Social media mailbox software
The social media inbox allows you to view customer interactions across different social platforms in one place; someone may ask a general question and send a private message. The social mailbox will tie them together to see the whole conversation.
And if a person sends you a message on more than one platform, you'll be able to see both notes to ensure a consistent response.
Customer Service Software
Customer support ticket software allows you to create unique cases – or tickets – for each customer support request. It will enable the client to track the progress of their case. It also ensures that the right people may quickly resolve the issue.
Customer service managers can control the progress of the case. Teams close the ticket when the issue is resolved.
Small businesses use the same tools as large businesses, only on a smaller scale. Most of the best customer service software tools offer inexpensive plans for small businesses. Some even provide basic features for free.
Most favored customer service tools
Below are eight customer service solutions, including help desks and online chat, social media, and mobile support platforms that may help your small business communicate better with consumers. These solutions are designed primarily for small businesses:
Freshdesk: it's a helpdesk platform that brings your customer service team together so it can serve your customers quickly and efficiently. When a help ticket is open, all team members can see it. Freshdesk shows which agent is working on the ticket and the status of the ticket. You can take internal notes about the problem.
Zendesk: Sometimes, clients need one-on-one help; others prefer to solve problems independently. Zendesk offers an easy-to-use multichannel ticketing system that brings all email, web, social media, phone, and chats messages into one place and a customer self-service portal.
HappyFox: it takes help requests from multiple channels – phone calls, chats, email, social media, and web inquiries – and automatically converts them into tickets in an organized and efficient help desk system. The platform also identifies common problems, groups related cases, and distributes tickets among multiple agents to solve more complex issues.
My LiveChat service: in case you're unsure if an online chat solution is right for your website, try the free My LiveChat service. It offers vital features in paid services such as multiple tickets, chat transcripts, real-time visitor monitoring, and pre-written responses to save agents time.
Helpshift: does your business have a mobile app? Utilize Helpshift to provide customer support directly from your application. Customers do not need to go to your site, search for answers or call your company. Helpshift makes getting answers as easy as sending text messages, improving customer experience.
Reasonable customer service solutions are customizable to support any workflow. They are powerful enough to handle the most complex business yet flexible enough to scale at any pace. They should also have the best features so that your agents and customer service team may customize their workspace.
The best customer care is to personalize the customer experience whenever possible. Business intelligence is a great way to get to know your customers. It tracks their usage and interaction with your business and their feedback.
Previous purchase history, their last interactions with you, and demographics should influence the customer service solution you offer.