Recently, chatbots have become a staple in the hospitality and restaurant industry. While it's a relatively new concept, it is being widely adopted by restaurants as bot technology improves. With bots, restaurants and food service businesses easily interact with customers by sending them personalized messages and notifications. This article will look at how restaurant chatbots help increase bookings.
The definition of a restaurant chatbot
A chatbot is a name given to a software application or service that reproduces the interaction between people. It's usually achieved using artificial intelligence and machine learning, which allows the chatbot to interpret a human user's message and respond to it seemingly intelligently.
A restaurant bot is a service that allows customers to ask questions or make inquiries without the need for a human response. Restaurant bots are designed for restaurant customers and adequately respond to the most common requests.
Use cases of chatbots in restaurants
You may use restaurant chatbots to automate a wide range of customer service tasks in the restaurant industry. Some of the most common use cases for restaurant bots are listed below:
Manage bookings and take orders: how much time do your employees spend booking and taking orders? Several online food ordering apps you may have partnered with take a long time to accept, process, and complete an order. A chatbot deployed on your website, app, and social networks – Facebook and Twitter may interact with your customers and perform these monotonous tasks with 100% accuracy.
Promote deals: the chatbot connects to your email list and entices your existing customers with new sales and offers. They can work on social media and your website, bringing in many repeat businesses. Machine learning allows restaurant bots to easily recognize your loyal customers and bring them back for further interaction with automated deals and offers.
Present your menu at its best: any restaurant with an extensive menu faces the problem that diners ignore some delicious dishes. The solution is that each of your employees is trained to know the menu thoroughly and make recommendations on the spot or have a chatbot that can present your menu in a visually appealing and conversational way and also learn about your customers' preferences to offer the best recommendations.
Secure Payments: chatbots make things easier by streamlining everything from order processing to invoicing and payment processing. It integrates credit/debit cards, internet banking, and other payment applications and gateways. Since customers have a wide choice of payment methods for their orders, all of which are entirely secure and contactless, this process guarantees an overall improvement in the customer experience.
Automate shipping tracking updates with a bot: bots help manage online orders by allowing customers to track their delivery. Bots may quickly and effortlessly update customer tracking information; customers can stay calm and happy throughout the delivery process. Once the delivery is confirmed, the restaurant chatbot will immediately inform the customer of the tracking details and arrival time.
Loyalty program: automating your loyalty program and encouraging people to buy more from you without having to be in sales all the time is another practical use of chatbots for restaurants.
If your restaurant offers delivery and takeaway services, you can reduce the effort required for the customer to place such an order. They don't need to call you or switch to the app to place an order. They send you a message directly on Facebook or in a chat box on your website and place an order while having an engaging conversation with the bot.
How can restaurant chatbots improve customer experience?
We have seen restaurant chatbots revolutionize the industry and continue to push the boundaries to help restaurants get more bookings. Here are a few ways chatbots can change your business:
Personal recommendations: bots are intuitive and help generate essential customer data from general information like name and contact information to specific data like «past bookings». It allows restaurants to offer personalized recommendations to their customers.
24/7 Customer Service: your customers get 24/7 customer service when you have a chatbot. They don't have to wait for you to start work during the day and call you. They can talk to the bot anytime and get the answer they need. It helps your business stand out from other companies that offer less and are more limited in how customers communicate with them.
Strengthening your brand: your voice and personality is essential to your brand. You can use chatbots to promote your brand and the vibe you are trying to create. It's a way to personalize your brand through a bot! Bots can be fun, conversational, casual, or formal. You decide what is best for your brand.
Always at peak performance: front-line employees excel at their jobs and are generally naturally gifted and good at their jobs. However, we all have days off. Sometimes we feel frustrated, angry, or sad, which can show up in how we talk to clients. A lousy tone or the wrong word can change the customer experience from good to bad. With a bot, you don't have to worry about that. Bots are always happy and never stressed. They don't need breaks, and they don't need to cheer up. They are always polite and friendly with customers and keep a cool head even with the rudest customers.
Cost savings: chatbots help cut costs by reducing the need to hire people for every task. You will need fewer employees if you have a booking bot and a waiter chatbot. You can also save on customer service. You don't have to pay someone to answer customer questions or complaints when many of them are handled by chatbots.
Keep up with current trends: You show your customers that you are an innovative and forward-thinking company by keeping up with current trends. Today you offer a fun chatbot that enriches their dining experience, but what about tomorrow? Will you have more great ideas in the future? Your clients will be sure that you will do it.
Website reviews are the new age of word of mouth that may bring more customers to any restaurant. Chatbots can intelligently send automated testimonial/review reminders to customers. Chatbots based on artificial intelligence offers an optimal mechanism for collecting customer ratings and feedback without human intervention.
Successful examples of restaurant chatbots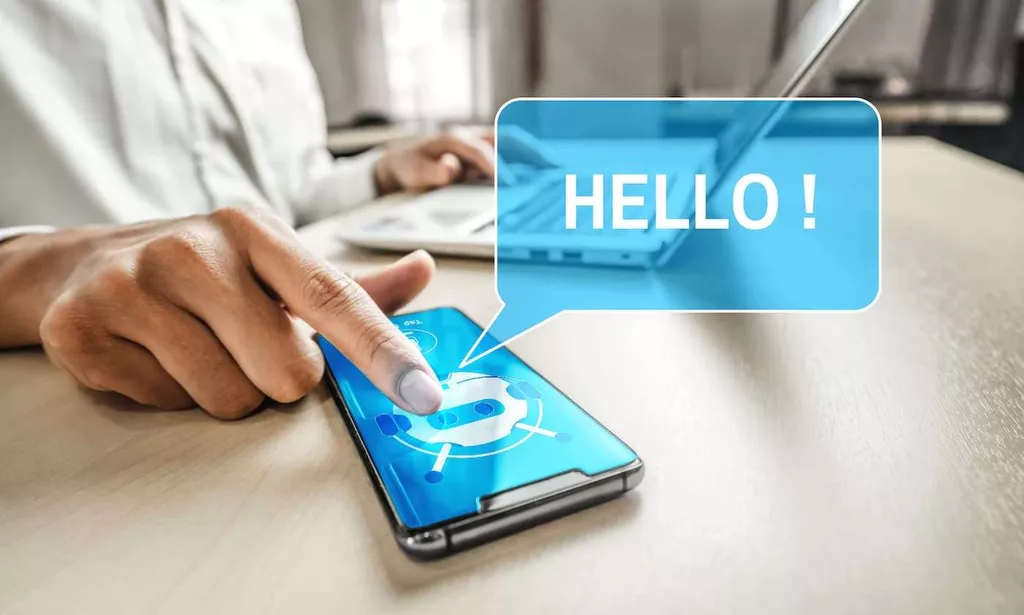 Today, most well-known cafes successfully introduce elements of artificial intelligence into their activities. The following five bot examples will demonstrate how these chatbots provide excellent value for restaurants:
Order pizza via Domino's chatbot: Domino bot called «Home» accompanies customers throughout the order and collects all the necessary information, such as phone and address, to place an order. In addition to helping customers, it also helps the brand reduce the load on their website and mobile app.
Starbucks chatbot provides voice assistance: «My Starbucks Barista» provides voice assistance in addition to text customer support. The chatbot lets customers modify and customize their orders according to their preferences.
Ukb199 Unlimited Korean BBQ with many images: such a restaurant uses a bot for marketing and answering questions. The company has placed a lot of pictures in the chat window to improve the customer experience and encourage the user to visit or order from the restaurant.
Burger King chatbot makes ordering food a pleasure: Burger King's messenger-based chatbot offers customers carousel menus and other advanced features. It makes the ordering process more fun.
Chatbot Panda Express collects customer feedback: the messenger-based Panda Express chatbot can help customers place their orders quickly and efficiently. It also allows the restaurant chain to collect customer feedback in a chatbot.
Unlike traditional menus, chatbots help customers actively search, highlight, and order on-demand dishes. In addition, restaurants can engage customers with a wide range of multimedia content, such as images and videos, that are integrated into the chatbot interface.
Voice order as the technology of the future
While most restaurant bots are text-based, restaurant chatbot technology can also use speech recognition and voice-to-text technology, which opens up exciting business opportunities.
It's in line with broader trends where voice technology is becoming more popular with voice assistants, including Siri, Alexa, and Google Assistant. Voice recognition technology could allow customers to complete tasks like booking a table or ordering food, even while doing other things.
For this reason, restaurants increasingly use voice technology and chatbots for automated voice ordering, significantly reducing wait times and freeing up staff to focus on other critical tasks. At the same time, it also provides accessibility benefits for people with disabilities.
Summary
A restaurant chatbot is software that helps businesses manage reservations, take orders, and serve customers in real-time. Brands can embed a bot on their website, social media, and messaging platforms to be where the customer is for their convenience.
You may use a restaurant chatbot to take reservations, collect reviews, and serve customers.
The easiest way to create a restaurant bot is to use a template provided by your chatbot vendor. In such a way, you have a pre-created background and only need to customize it to add the diner information.
Be sure to review the examples and get some idea of ​​what successful restaurant bots look like when you start building your own.