Many companies are now adopting bots to customize, engage, and enhance the experience of traditional customer care. One of the main objectives of retail sales has always been to encourage consumer engagement. With the aid of digital technology, a casual customer may now be converted into a purchase fast and effortlessly.
Every day, users spend several hours online looking through hundreds of pages and comparing items. Sometimes they are just looking, and other times they are specifically looking to buy. Yet there is always a chance that users will opt out, regardless of whether they are only looking or ready to buy. As a result, online retailers are already using many techniques and solutions to stop cart abandonment. Smart digital assistants, or chatbots with artificial intelligence, like chatbot e-commerce, provide excellent answers for many tasks. Learn more about e-commerce virtual assistants and the ways you can benefit from them.
What is an e-commerce chatbot?
Bots may reduce repetitive, everyday user engagement expenses. The automation of the work process, as in other areas of business and production, is acceptable if the duties and objectives of this process can be identified and articulated.
Bots are now being deployed in the retail sector, although their full potential has yet to be realized. Those in the industry who do not choose digital solutions will find it increasingly difficult to remain profitable, while their more sophisticated rivals will have a clear edge.
Consumers today want to purchase goods and receive answers to their issues through various channels quickly and without further obsession. In this case, chatbot e-commerce is a perfect assistant. In addition, it increases engagement and loyalty by ensuring the customer finds what they are looking for quickly and easily.
How does an e-commerce chatbot work
It is crucial to comprehend how does the e-commerce chatbot work. The interaction between the client and the company looks like a pleasant conversation rather than a commercially flattened scenario or obsessive sales. Here are just a few examples of how bots are transforming the retail industry:
Bots provide instant customer assistance through many real-time communication channels (voice calls, text, email, chat app, and website).

By communicating through messaging, bots make it simple to make transactions.

Customers may receive relevant offers from bots depending on their interests.

Bots can provide the most recent information on stock availability.
Chatbot e-commerce provides businesses with a lot of advantages. They offer several features that assist online retailers in generating an excellent user experience, both in terms of marketing (people get advice and get inspired) and support (bots answer inquiries 24/7).
Why does your business need AI-powered systems?
An AI-driven chatbot for e-commerce can address the growing demand for e-commerce while offering a great client experience. Retail businesses can use chatbot e-commerce to: 
communicate with clients in real-time while utilizing the power of AI; 

build customer trust and brand loyalty;

increase income and sales;

establish a secure communication channel for client interaction.
Customers may effortlessly and comfortably communicate with shops and marketplaces thanks to the AI chatbot for e-commerce. Companies may significantly automate the customer service process and convert casual visitors into devoted ones. Cross-selling, individualized suggestions, 3D product presentations, and even allowing customers to "try on" clothing before they buy are all ways that virtual assistants may increase sales.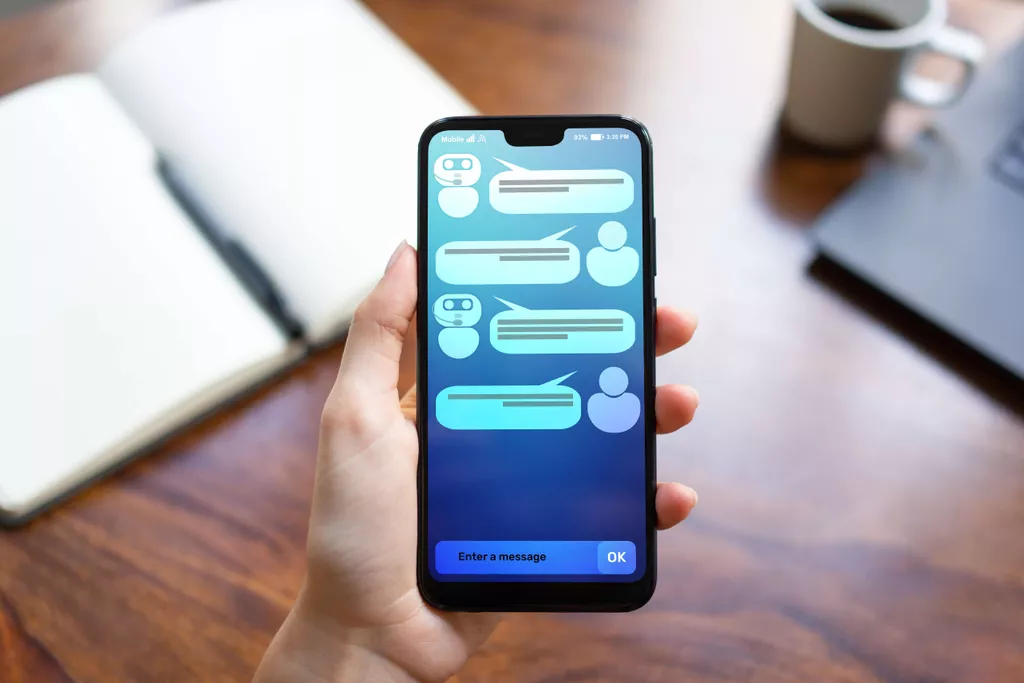 How to use a chatbot for an e-commerce business
Chatbots are quickly becoming an invaluable tool for e-commerce businesses. The tool may be applied in a variety of scenarios:
Respond to repeated questions. Users may quickly navigate through items and compare costs from various providers.

Advising during the product choice. A chatbot may inquire about preferences and demands to aid clients and provide tailored recommendations.

Assist with the ordering process. Compared to the customer care representative, a virtual assistant better and quicker handles simple activities.
Moreover, virtual assistants are excellent tools for lead generation since they automatically capture client information.
Ecommerce chatbot platform examples
You may now build a chatbot with platforms that offer the required features and integrations. This is a beautiful choice if you need an internal chatbot to assist your staff. Many well-liked tools include:
Chatfuel

Beep Boop

Botsify

Smooch.io
It is crucial to keep in mind, though, that building the perfect chatbot on your own is challenging. The knowledgeable MetaDialog team steps in to assist with this. Our work is sure to result in a great project.
How to build an e-commerce chatbot
You must first determine your objective to know what duties to assign the virtual assistant. After establishing the primary objective, it will be simpler to comprehend what jobs the chatbot must complete. Knowing if your audience is ready to interact with a new assistant and determining the clients' anticipations are wise steps.
Make a list of the critical requirements after researching your audience. The most effective bot can be made in this way.
The websites you wish to incorporate the bot must then be determined. You must assess the communication routes to avoid squandering resources. Identifying the appropriate integrations with inner systems is a crucial next step. This phase might influence whether a ready-made platform or development team is selected.
There are now a ton of ready-made chatbot builders available on the market. Several already have a built-in platform, payment, instant texting, and social network implementation. There are other pay-free versions, but they have minimal functionality. The best course of action is to leave the building of a virtual assistant to experts like MetaDialog. A group of specialists will be able to design a great bot that satisfies all of your requirements and helps your business succeed.
Examples of using an e-commerce chatbot
Businesses frequently utilize chatbot AI to provide clients with a unique experience. Some of the e-commerce chatbot use cases:
Among the well-known instances of virtual assistants is Nike's Stylebot, a bot designed for Facebook Messenger. Users may download photos to the bot, which utilizes the color scheme to propose specific footwear or outfit models.

Staples is an exciting example of an online office supplies retailer with an AI-based chatbot. Grounded on previous brand activity, the business uses Facebook Messenger to provide clients with items. Customers may now make purchases on Facebook straight through the virtual assistant.

A well-known clothing company called H&M created a KIK conversation bot to ask customers about clients' styles. Based on this information, the assistant develops unique fashion profiles for each user, suggests outfit conformance, and directs the user to place a purchase.
Chat is more than simply an e-commerce tool. It is a distinctive method to provide clients with a worthwhile and enjoyable experience. Hundreds of businesses already see these technologies' benefits across all industries, not just commerce. Those that seize their chances early will quickly recognize the flood of new clients and be able to earn their confidence, radically altering how they view business.