In recent decades, the culture of shopping has changed significantly. Previously, people made shopping plans in advance. Families were given one day for all purchases. But then online stores appeared. Online shopping is a paradise for all shopaholics. You can order something at any time of the day without leaving your home with just a few clicks. And then the goods will be delivered to your doorstep without much effort. But in this rapidly changing world, people's desire to shop online has also become commonplace. Today, people want something more to improve their shopping experience. So then, the trend of shopping chatbots in online stores came into play. According to the latest statistics, the bot services market is expected to exceed $7.8 billion by 2030. It creates many opportunities. But what are these online shopping bots? Let's discuss how they work.
The definition of a shopping bot
A bot for online shopping is a stand-alone program designed to perform tasks that facilitate the buying and selling goods. It may interact directly with users by asking questions and offering product recommendations. The use of artificial intelligence in the development of shopping chatbots is gaining momentum. AI bots can have self-learning features to help them do their jobs better. Incorporating Natural Language Processing (NLP) into chatbots allows them to understand written text and spoken language. AI-enabled conversational shopper robots can behave like humans in a way that feels natural. Shopping bots are unique in that they can be accessed through multiple channels. They should be available where the user chooses to interact. Customers can contact the same bot on Facebook Messenger, Instagram, Slack, Skype, or WhatsApp.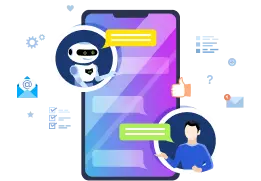 Automate 84% of user questions
AI Engine can transform your data into knowledge, and answer any question your users asks, complexity automatically
How does a shopping bot work?
The online shopping bot works by using a specific program to perform mechanized tasks based on instructions provided by bot manufacturers. It gives the customer an advantage over other buyers. The most common areas of application for shopping chatbots are:
You can use the bot as a customer service system that resolves customer issues instantly (through real-time conversation). In turn, it is easier to quickly eliminate any doubts among potential customers and turn them into customers.
Chatbots offer customers better deals (such as discounts) and personalized product offers. It makes it easier for buyers to find the most likely to buy items.
The bot for online shopping may provide tracking information for items in transit or collect information from your audience, such as product reviews. In such a way, you will know if you are satisfying your customers and have the opportunity to achieve more tangible results.
Imagine a customer wants to buy new collectible sneakers as soon as they hit the market. One scenario: he sits in front of a computer screen 24 hours a day, seven days a week, and constantly refreshes the browser until the desired pair is on sale. It will take several days and will be regarded as a waste of time. The second scenario would be using online shopping bots to monitor. The software will be designed in a specific way to search for the text "In Stock" in a particular field of a web page. The bot will quickly send requests to the shopping page repeatedly until your product appears in the catalog. The functionality of different online shopping bots varies depending on how the developers code them. It also means you will have some virtual assistants limited to only a specific task, while others have multiple functions. Again, the effectiveness and convenience of each shopping chatbot depend on the developer's skills.
All advantages of online shopping bots
So far, we have discussed users' benefits of these shopping platforms. These include price comparison, faster checkout, and a more straightforward product ordering process. However, the business advantages go far beyond increased sales.
Self-service
Self-service is an organized system that allows consumers to choose goods or services independently. In other words, instead of going to a customer service representative for help, self-service bots are used to provide online user support. Self-service examples:
online banking services,
ticket booking,
grocery shopping,
shopping for clothes and accessories,
gadget hunt.
What self-service is usually offered through the website? Retailers understand consumers have changed over the years, and the expectation of flawless and consistent service is outrageous. This standard is too high for humans. Therefore, personal shopping robots or chatbots are the perfect way to do the job. Here are a few benefits of self-service chatbots:
increase daily productivity,
hassle-free shopping,
speedy service,
reduces the total cost of purchases,
allow skipping the long lines at the mall,
unlimited access to essential data, status, and details.
Online shopping bot vendors typically claim their tools may automate 70-80% of customer support requests. They can reduce the number of active agents by offering 24/7 support.
Easy product navigation
Having multiple product options can be a challenge. Manually choosing the best option can be problematic. Shopping bots make the online shopping experience easier for every consumer. These customer self-service systems are designed to research, compare and select the best product option. It will also provide a link to the seller to purchase. It will help narrow down the range of suitable products with little or no effort on the part of consumers.
Quick checks
Some clients are impatient. An extremely long checkout process can cause them to abandon their carts quickly. Possible factors could also be:
The rate is too high.
Too many steps from cart to checkout.
Too many ads get in the way.
Shopping bots do not require lengthy checkout procedures; most are ad-free. The process is similar to talking to a friend. It's fast, easy, and straight to the point. You certainly won't waste time checking when there are shopping chatbots nearby.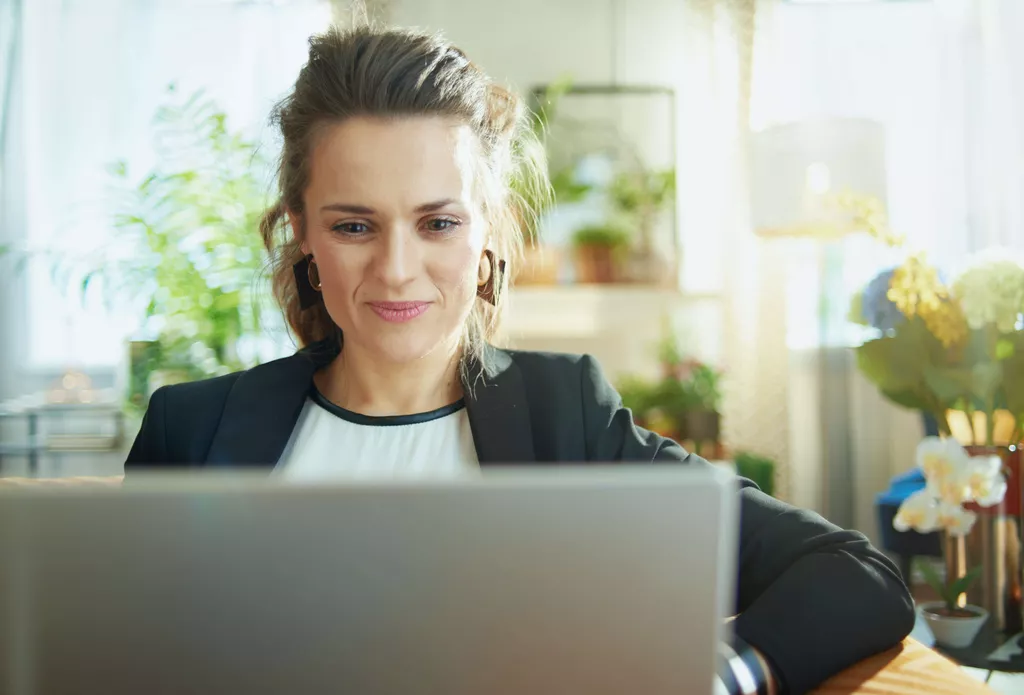 Reduces shopping dissatisfaction
Customer controversy is terrible customer service that disrupts your online or brick-and-mortar shopping experience. Any source of inconvenience makes you feel stressed, frustrated, and annoyed. Here are some examples:
The site is slow.
Disorganized product placement.
Long payment forms.
Inventory shortage.
Limited payment options.
Luckily, self-service platforms are the best solution for a hassle-free shopping experience. Self-service support provides an easy purchase process across various channels to meet customer needs without hassle.
Personal recommendations
Instead of endlessly scrolling through a category page, shopping chatbots filter out what you want and don't need during a conversation. It will ask you what you are looking for and create a personalized list of recommendations that suits your needs at any time. Self-service systems on the website are available 24/7 to meet user requests for sales or support. Unlike human representatives, who are only available for a limited period, shopping bots make online shopping much more accessible by always being available. It allows customers to get what they want, when they want, without any restrictions.
How to create a shopping bot?
A great chatbot builder will develop a chatbot script to help users of an online ordering app. A knowledgeable Chatbot developer brings the right technology mix and ensures Chatbot interactive communication with users of online shopping platforms. It helps users compare prices, resolve sales questions, and create a seamless online ordering process. There are several rules to building a quality shopping chatbot.
Personalize your chatbot
The chatbot script should sound friendly, polite, and concise. A more advanced version will be coded to provide users with an extended list of language options. It helps users to communicate with the bot's online ordering system easily.
Chatbot database
The online ordering bot must be pre-configured with the common keywords for the products and services offered. Users will most likely enter these keywords in the search bar. In addition, hints will be sent to the bot script to improve usability and speed of data processing. A typical online chatbot's standard features are price comparison, product listing, promotional offer highlighting, and store policy information. The most advanced chatbots can be programmed to store and use repeat user data, help users compare prices, choose suitable products, and may even remember usernames when chatting online. Specialists can program questions such as delivery time, opening hours, and other frequent customer queries into the shopping chatbot.
User testing
Online ordering bots will require extensive user testing across devices, platforms, and environments to determine if there are any bugs in the app. After identifying any bugs such as slow query times, error messages, or failure to return search results, chatbot creators will need to troubleshoot, fix, and update before launch. After repairs and updates to the online ordering system of the bot, the creators of the chatbot must again undergo rigorous testing before launching the bot.
Examples of online shopping bots
This list has a suite of ecommerce solutions and a few shopping bots. Whether you want to increase sales, offer 24/7 support, and more, you'll find a set of tools. Some are ready-made solutions, while others allow you to create custom conversational bots with artificial intelligence. We've also included examples of buying chatbots that reduce the checkout process to a few seconds and those which can search for products on your behalf.
Shopify Messenger
Shopify is already one of the most famous ecommerce distributors on the web. Its messenger bot helps entrepreneurs and customers buy or sell products. Customers can view and even buy products directly from the messaging app. The user-friendly and attractive design makes the experience convenient for the client's daily habits, e.g., scrolling through the app while waiting for a coffee order. Shopify Messenger bots let merchants send automated updates about a buyer's product delivery, increasing delivery transparency for customers and freeing up the workforce for the company. Shopify Messenger has a 14-day free trial and doesn't require a credit card. Buyers and sellers can safely use this shopping chatbot before deciding if it is right for them.
SnapTravel
Send a message to the bot to get a 30% to 50% discount on hotels and flights. The company has partnered with Priceline, Booking.com, Hotels.com, and other travel accommodation sites to notify you of sales as soon as they go live. You can choose between text messages, Facebook Messenger and WhatsApp to interact with this bot. Once you tell the bot your location, dates, and accommodation preferences, SnapTravel scours the web to find exclusive deals. You can even confirm your bookings through a bot service. SnapTravel services include 24/7 live chat customer support and exclusive VIP packages. These packages include upgrade calls, notable credits, cost integration, and more.
Masha.ai
Masha.ai aims to connect shoppers with their favorite brands. The service generates the best offers and the most suitable products and services. It has global partners such as Nike, Under Armor, and Qatar Airlines. Users may add the Masha online shopping app to their favorite messengers. It has apps and integrations for Android, Amazon Kindle, Web Chat, Facebook Messenger, Telegram, Skype, Slack, Line Messenger, and Microsoft Teams.
Dasha.ai
Dasha is a solution that lets developers create human-like conversational applications. The ability to synthesize emotional speech overtones is included as a standard. There is support for all famous platforms and messaging channels. You can even embed text and voice messages into existing apps. Since you can build anything from scratch, you have many options. Create self-service solutions and applications to manage IoT devices or create a complete automated call center. DashaScript's declarative language is easy to learn and allows you to build complex applications with fewer lines of code.
Birdie
Birdie is one of the best online shopping bots you can use on your ecommerce store. If you want to know what the audience is saying about your products, Birdie is your best bet. The shopping chatbot is equipped with artificial intelligence technology that analyzes customer data points in real-time. As a result, it provides information that helps you see what customers love or hate about your products. It makes it easier to develop actionable tactics to improve your products and customer satisfaction in your online store. Overall, Birdie will help you understand audience needs and purchase drivers. As a result, improving the quality of shopping in your online store and increasing sales in your business will be easier.
WeChat
Do you want to establish a relationship or a strong connection with your audience? If yes, then WeChat shopping chatbot software suits you best. The bot lets you first befriend your audience on WeChat to get closer. You can then sell directly to them and offer potential customers easy access to your products. It's an effective way to be successful with your ecommerce store. Think of it this way. It is easier to convert potential customers with whom you have connections than those with whom you have no connection. Moreover, WeChat has payment features to manage transactions quickly and easily.
Cashbot.ai
Unlike many shopping bots that solely focus on improving the customer experience, Cashbot.ai goes beyond that. In addition to answering questions from potential customers, it also monetizes conversations with them. In other words, it uses conversations with customers to encourage them to buy your products. It does this using timely and AI-driven product recommendations that are irresistible to potential customers.
Kick Bot Shop
Such a shopping chatbot enhances customer communication with merchants. There are many bots to choose from, such as Q&A bots that answer customer questions or bots that provide product tracking information. Merchants may also use entertainment bots to increase audience engagement, such as bots sharing memes with users. Kik Bot Shop allows you to find the best bots for your audience and even create your chatbot on this platform.
H&M
If you want to create your fashion sense without celebrity influences, the H&M shopping bot will allow you to browse the company's range easily. You can chat directly with the bot to find the specific piece of clothing you are looking for to create your perfect outfit. As with many other platforms, the H&M shopping chatbot only works with Kik. Since the selection is limited to H&M inventory, H&M fans can get exclusive deals and quick information on the products they know and love.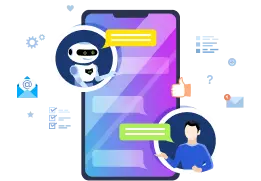 Automate 84% of user questions
AI Engine can transform your data into knowledge, and answer any question your users asks, complexity automatically
Final words
There are many online shopping bots available in the market. Many chatbot developers have free versions of simpler chatbots, while more advanced bots are designed to be more responsive to customer interaction and communication. Your budget and desired level of automated customer support will determine how much you invest in building an effective bot for online shopping. You can choose the design and features of the online ordering bot system based on your business's and your customers' needs. Chatbots are great tools that automate the process, bringing significant benefits to both the end user and the company.