With so many people worldwide opting for automation, it's no surprise that bots are everywhere, and marketing is no exception. While it is still necessary to practice any marketing strategy, bots and automation certainly can't hurt when it comes to managing processes and generating leads and clients.
One excellent automation tactic is chatbot marketing. Such a digital marketing strategy helps to automate customer communication until the customer or user is referred to a live agent to help. Let's talk more about the features of using intelligence software.
Some words about chatbot marketing
Chatbot marketing is a marketing technique that uses computer programs to automate interactions with prospects and customers on your website or app to increase sales. The use of chatbots in marketing strategies allows companies to qualify and reach potential customers at any time and in any volume, regardless of whether your marketing and sales departments are online. Like you can use marketing bots to answer support questions, you may use chatbots to start conversations with website visitors and qualified leads and even sell more to customers.
A person does not control bots in messengers; he creates them. They send your leads and prospects precisely the messages you want them to see, based on the rules you choose. So, for example, if you need the bot to only appear to website visitors who are not logged in, you may do so. Or, if you want it to be displayed to visitors who are not logged in and have been viewing your pricing page for above 60 seconds, this option is also available.
All advantages of chatbot marketing
Visual chatbot builders allow you to create bots for free on Instagram, Facebook Messenger, WhatsApp, and Telegram. So what are the most significant marketing benefits of chatbots? Below is a brief overview of why bots are essential in future marketing.
You are saving time and cash. A chatbot lets your business serve more customers with fewer resources and effort. Unlike humans, a chatbot doesn't need a salary and works 24/7, so building a chatbot is a one-time investment.
Help create segmented traffic. Chatbots diversify your audience by taking the conversation in different directions. A person interested in prices is likely to be a warm lead, so a chatbot might offer to place an order right in the chat. The chatbot should provide all the necessary data about your product or service if people need more information.
Fast response guaranteed. The instant response allows users to resolve issues quickly and provides a positive user experience. When done right, a chatbot will enhance your brand image and increase the sense of trust associated with your company.
Speeds up the payment process. You can use a bot to complete orders without forcing users to visit the website. Placing orders and paying directly in the chat takes your customers less time and effort to buy from you. To do this, you need to connect PayPal or other money transfer services to your chatbot.
Suitable for any business. You may create a chatbot for various processes, whether you own a small family business or a large enterprise. It's a universal marketing channel, and unique platforms allow you to create bots to use on Facebook Messenger and Telegram.
Increases engagement. The conversation is carried out on messaging apps such as Messenger, WhatsApp, WeChat, etc., with a massive audience of about 5 billion users. It means you will have the opportunity to communicate with a very targeted audience on a global scale.
Provides data for analysis. All the data collected by your chatbot gives you insight into the needs and preferences of your audience. With such data, you can tailor your chatbot marketing strategy and general marketing to improve financial and communication results.
With the help of chatbot marketing, you can smoothly and quickly move leads through the sales funnel. If you're selling shoes, you have an excellent chance to display different models, colors, features, anything to warm up potential customers and help them decide that your services are worth the money.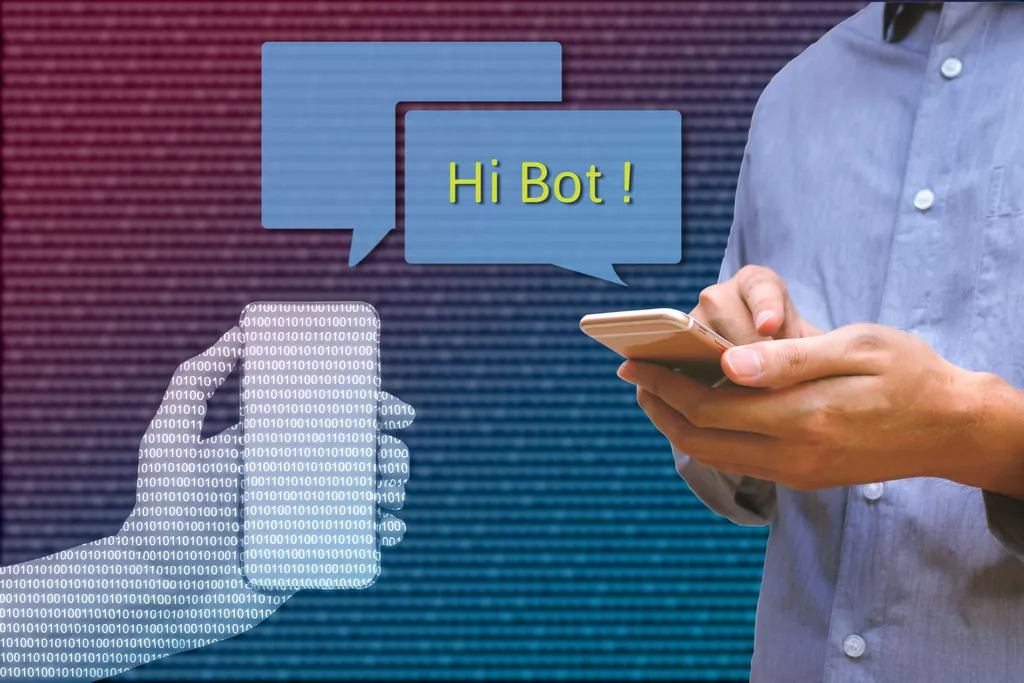 How can you use the chatbot in marketing?
There are many ways to take advantage of the chatbot marketing strategy in your digital marketing. Bots can be beneficial if you need to automate essential processes, answer common customer questions, and even make sales. Let's find out a little more:
Take orders: it can be a lifesaver in the e-commerce industry. When a lead is hot, the chatbot may send a notification to encourage the client to place an order or recommend other products they might be interested in.
Appointment scheduling: with bots, you make it quick and easy for customers to schedule their next appointment with you. You need to connect your calendar to a chatbot, asking potential customers about a date, time, and contact data to schedule a booking while you're busy doing other things. It can benefit companies that provide services, such as beauty salons or fitness centers.
Product promotion: Promoting your services and products should be part of your current marketing campaign. Marketing bots help with this time-consuming task by recommending products and displaying your offer to motivate customers to checkout.
You may also share your company news and updates to inform your customers about your latest products and services.
After we've covered the basics, let's look at some of the best chatbot marketing examples on the market.
Examples of utilizing marketing chatbots in different companies
Many companies use machine learning bots to achieve marketing purposes. Some have AI-enabled chatbots that help their sales teams improve customer experience, gather qualified leads, and drive sales. Others use this computer platform as part of a support group to provide real-time assistance. Let's look at some examples.
The Lego Christmas campaign is the first successful example of using a messenger for chatbots. They used marketing chatbots to help parents choose the perfect Lego set for their children's present. The bot asked potential customers about the age and interests of their children and then showed them the available range of products.
Lidl UK lends its customers a helping hand in choosing the right bottle of wine in the store. Customers can choose a combination of dishes, take a quiz or search for a specific wine.
H&M marketing chatbot allows customers to search for information about products and their availability. Customers can click on one option and paste a keyword or photo to find what they are interested in. Once the search is defined, the bot will send the lead to the correct page on the company website.
Roma by Rochi is an online clothing retailer that uses bots to upsell products through its Facebook page. This business gives customers plenty of options in their Messenger bot. Their marketing chatbot will answer customer questions, show a product catalog, or notify a lead when products are on sale. You may also click to shop online and go directly to the online store. Other options include shipping tracking and wholesale information.
Today, thanks to the active use of chatbots, you use them to order food, plan travel, and get recommendations on almost any occasion.
A chatbot is a disruptive customer engagement tool with tremendous marketing potential. A recent study found that 60% of people regularly interact with a chatbot, and most organizations that don't have virtual assistants plan to implement them in the coming months.
How to make an excellent marketing chatbot
With the correct audience segmentation and messaging, marketing chatbots successfully bridge the gap between the «new visitor» and «the right lead». When building your first few chatbots, keep these tips in mind to ensure a positive experience with the company.
Don't pretend your bots are people
As helpful as bots are, they are not human. Giving your chatbot a real name and a standard human profile photo will confuse potential customers. If they expect a human response but receive something completely different, no matter how helpful that response is, they will probably feel you play them.
At the same time, your bot should still sound like a conversational one. The marketing chatbot's messages should sound like the voice of someone on your team.
Launch chatbots at the right time
Chatbots can be distracting and intrusive if they show up too quickly or in the wrong place. Use your chatbot to help visitors on crucial conversion pages, but only activate it after a few minutes. And for users who understand they're ready to make a purchase, embed the payment app directly into Messenger or direct them to a person as soon as possible to help them checkout.
Test and Refine
Some leads don't respond to chatbots, and it's ok. When you test your bot marketing, you may find that your posts are being answered by leads that meet specific criteria. Track engagement reports understanding what works and what doesn't. Instead of getting a reaction from every visitor, customize your bot behavior to target potential customers who will interact.
The purpose of marketing is usually to increase the number of leads and optimize sales to increase revenue. Regardless of your industry, chatbot marketing is making a significant impact as one of the most trusted e-commerce trends to increase revenue for businesses that adopt it.
Whether your chatbot approach is to facilitate an order or attract new customers, it's easy to set up to work alongside your current marketing platforms. You may then let it run using the pre-made templates you have planned. All you have to do is take advantage of the data results that will help you improve both your bot and overall marketing in the future.