Artificial intelligence tools have become the main engine of progress in various technological areas, including the automotive sector. It now affects the way car companies build, select and operate vehicles. According to experts, the cumulative annual growth rate of AI in the automotive sector will reach 40% and by 2027 will be approximately $15.9 billion.
The world is seeing a steady increase in demand for connected cars and smart technologies, including image and voice recognition. As a result, today, the automotive industry is based on artificial intelligence and automation in vehicle design, manufacture, and use.
Use cases of AI in the automobile industry
AI tools are being actively implemented in the automotive value chain, including developing project documentation, manufacturing, «driver assistance» systems, and «driver risk assessment». In addition, artificial intelligence affects after-sales services, e.g., preventive maintenance and insurance. Let's discuss how forward-thinking automakers are leveraging this technology:
Driver assistance: AI for cars helps protect drivers from accidents. Some smart sensors beep to prevent accidents, e.g., if the person behind the wheel forgets to fasten their seat belt or close the door.
Supply chain: when manufacturing vehicles, it is essential to keep track of each step of the component's journey to know when they will arrive at production. Modern supply chains rely on the advanced Internet of Things, blockchain, and artificial intelligence techniques. Machine manufacturers may turn to platforms based on machine learning and AI-based predictive analytics. They help automakers determine the demand for components and predict their changes.
Autonomous cars are the best example of artificial intelligence in the automotive industry. New technologies enable the creation of next-generation autos with self-learning and self-driving capabilities. Along with receiving information from image recognition systems, using the potential of machine learning and neural networks, driverless cars move autonomously.
Auto insurance: AI-ruled solutions have significant potential to manage insurance situations. The driver may use advanced technology to collect traffic accident data and submit claims. Such a system combines data mining, speech recognition, natural language processing, and other technologies.
Simplify the procedures of buying and selling a car: in the future, an AI-ruled UI can recommend the best car models based on a person's driving skills, insurance level, health data, fines received, etc.
Prototyping and testing: by implementing machine learning and AI-based test processes, car manufacturers may test vehicles and analyze their performance around the clock. Machine learning algorithms allow companies to create thousands of prototype devices and parts.
The future of AI for cars looks promising. Advanced technologies using cloud computing, deep learning, and cognitive systems will bring safe and efficient autonomous automobiles to market. AI-ruled robots are not fully implemented, but they will perform most manufacturing operations in the next decade. Automotive factories that do not use smart systems should consider adding them now.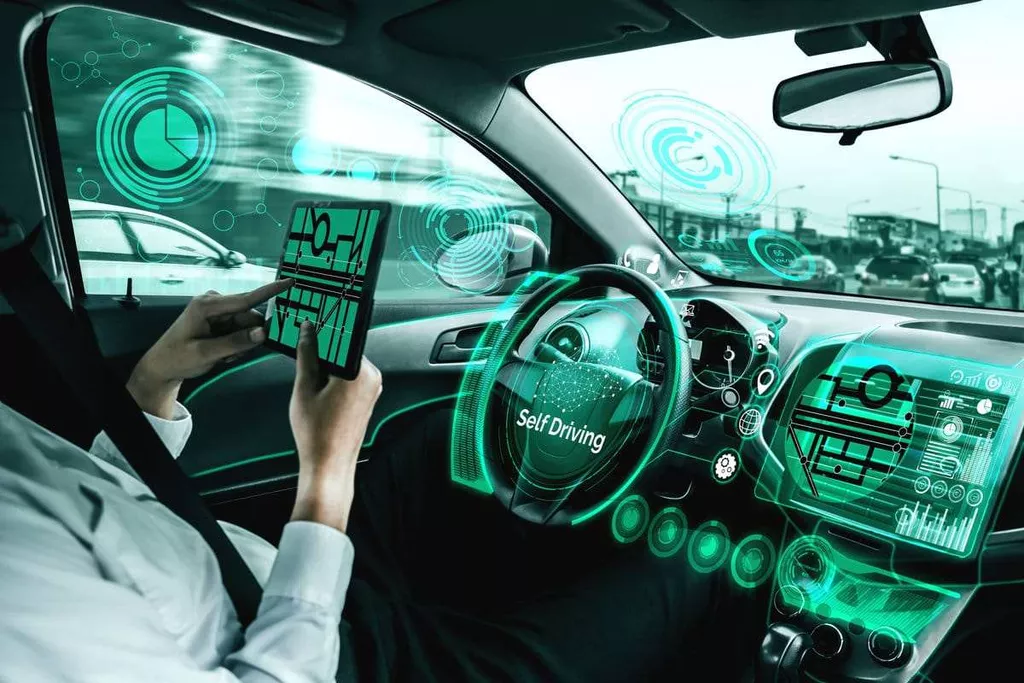 How do autonomous cars work?
Artificial intelligence techniques provide the movement of driverless vehicles. The creators of driverless cars use much information from picture recognition platforms, neural networks, and machine learning to create systems that may drive vehicles autonomously.
Neural networks try to find patterns in datasets that feed machine-learning models. Such information includes photos and videos from the cameras of autonomous vehicles to learn to identify traffic lights, trees, curbs, pedestrians, road signs, and other elements of the environment.
Let's look at the features of the operation of driverless automobiles in the example of Google Waymo:
The passenger chooses a destination, and the software builds a route.
A moving Lidar sensor mounted on the roof of a vehicle monitors a 60-meter area around the car and builds a 3D map of the environment.
Sensors on the left rear wheel monitor lateral movement to understand where the car is on the 3D map.
Radars in the front and rear in the bumpers calculate the distance to obstacles.
The AI-ruled program in the car is synchronized with the sensor system and collects information from Google Street View and video cameras located inside the auto.
Artificial intelligence mimics human perception and decision-making processes through deep learning and controls all actions in the vehicle control system.
AI-backed programs use Google Maps to get notifications of all landmarks, road signs, etc., in advance.
Experience plays a significant role if we speak about driverless systems. The longer an autonomic vehicle drives, the more information it incorporates into its deep learning model, allowing it to make the right driving decisions. Cars have an override option that allows the driver to take control of the vehicle.
Advantages and disadvantages of driverless automobiles
Today, people are increasingly dealing with partial autonomous driving in new vehicles. Such technologies allow cars to park themselves, navigate highways, choose lanes and regulate speed. While it may take years for fully self-driving autos to become active, there are some pros and cons to keep in mind when that day comes:
Reducing the number of accidents: most road traffic accidents are human-caused. Experts have calculated that autonomous cars can reduce the number of accidents by 90%. Self-driving vehicles can eliminate traffic accidents caused by driver fatigue, inattention, and intoxication disorders.
Maximum travel efficiency: automated automobiles can communicate via a network of computers. Such interaction allows real-time analysis to choose the best route and calculate the required speed and distance between cars.
Accessibility for senior citizens and people with disabilities: according to a study by the Ruderman Family Foundation, removing traffic barriers will employ more than 2 million people with disabilities and save up to $19 billion a year in healthcare costs due to missed doctor visits.
However, do not forget about some of the disadvantages of driverless cars:
Hacker attacks: connecting transport to the internet makes them more vulnerable to hackers who can get control over the car. There are also some privacy concerns as the vehicle is tracked, and frequent destination information may fall into the wrong hands.
Reduction of vacancies: with autonomous cars, some drivers of taxis and trucks can become unemployed.
Upgrading roads and infrastructure: driving conditions must change so those self-driving cars can easily navigate highways. It also requires a lot of money.
Implementing AI for cars will increase the value of the machine over time. This advanced technique maximizes production capacity, increases efficiency, and captures critical information to ensure a new driving experience. Experts predict AI will constantly transform the automotive industry, creating additional opportunities and providing maximum return on investment.